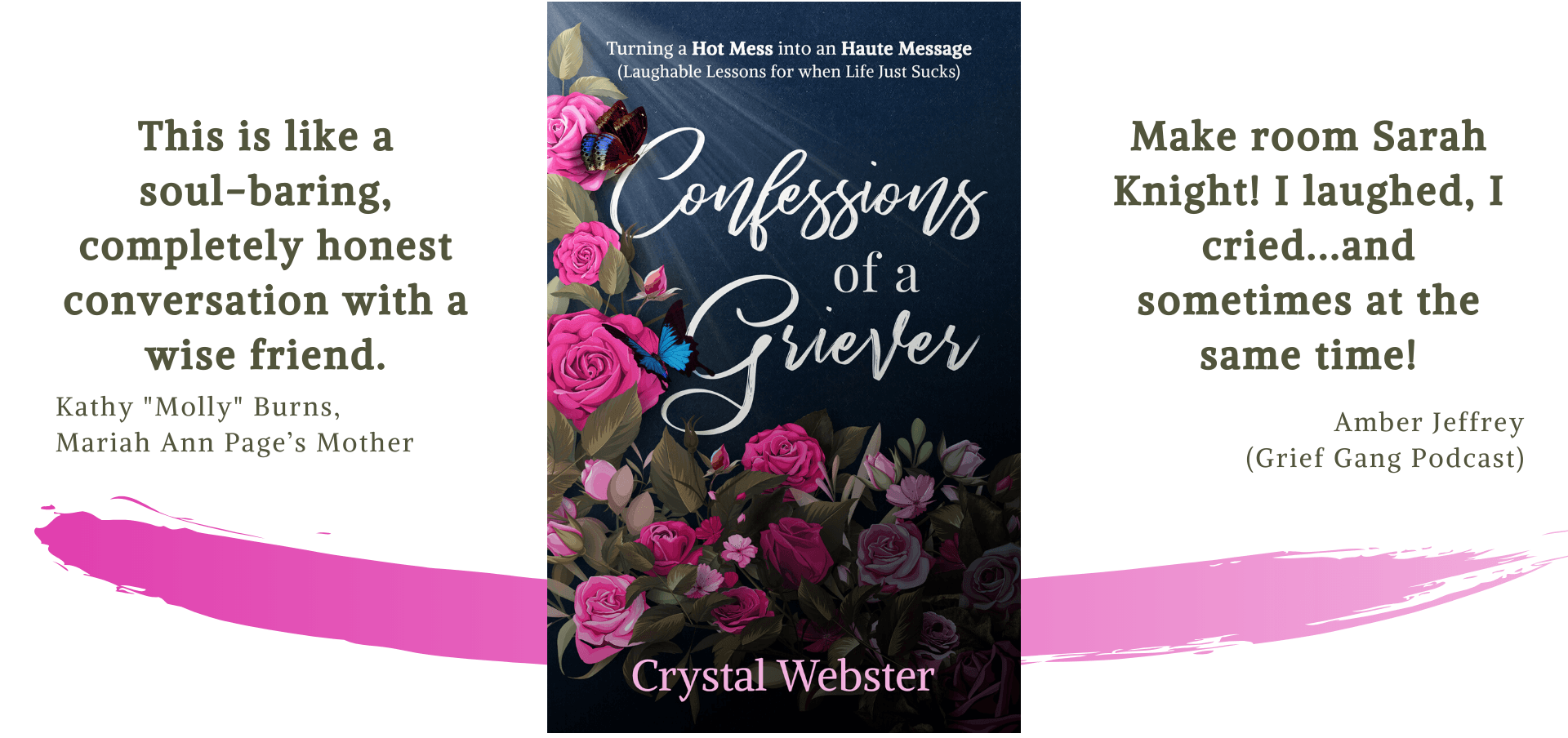 Grief Sucks, but you don't have to. Part memoir, part self-help, part choose your own grief guide; this cheeky and honest book takes a hard look at society's view of grief and flips it the bird.
If you've encountered a traumatic loss (of any kind) and you want to use your experiences to make yourself better (and less bitter), then the sugar-coated platitudes everyone gives you just won't cut it.
In Confessions of a Griever: Turning a Hot Mess into an Haute Message (Laughable
Lessons for When Life Just Sucks), Crystal helps readers understand:

Why you should 'Go Duck Yourself'
Why 'You Don't Get to Call her Husband an @$$hole'
Why you should 'Do More Good Sh!t'
How 'You'll Set Yourself Free'
That 'My Grief Can Beat Up Your Grief'
'I Am Your Grief Guru'
That 'There is No Right Way to Grieve'

This book will help you realize that grief is grief—however you experience it. Everyone
experiences it differently and everyone feels crazy while living through it. You're NOT
crazy and your feelings ARE normal. You just need to embrace the ride and
'Remember. You're not alone.'
The book is written in Seven Parts – which correlate to the Seven Stages of Grief. (PS – we debunk that myth too)…
Part 1 contains experiences with shock – including what types of loss are "grieveable"
and why you shouldn't believe yourself.Part 2 contains experiences with denial – including why you should consider me
your "grief guru'' and why you just need to "f'ing breathe".

Part 3 contains experiences with anger – including the correlation between grief blaming
and victim shaming.

Part 4 contains experiences with bargaining – including why my grief can beat up your grief.

Part 5 contains experiences with depression – including why it's not the best idea to go
'suffer shopping'.

Part 6 contains experiences with testing – including why the game 'Two Truths (and
a Lie')' is for everyone, even you.
Part 7 contains experiences with acceptance – including why everyone needs to go to Switzerland…and Las Vegas.
Listen to the first story in the book here:
Meet the Author:

Crystal Webster is the founder and Chief Solace Officer of Sharing Solace – and most importantly, she is Maddie's mama. Sharing Solace is a community of grievers for grievers; melding tangible gifts and meaningful community to help those grieving 'Remember. You're not alone.'

Her story of infant loss and infertility is not unique; at the same time, she found herself lonely and debilitated from the grief. She felt compelled to write her debut book in the hope that her adventures in loss, grief, and mourning would encourage others to share their stories, no matter what their grief. Her quirky, irreverent style pulls readers in and creates a safe space to just feel their freaking feels.

For media inquiries please contact Crystal@SharingSolace.com or phone +1 (913) 390-3920‬